March 3 - 24, 2016
Carter Burden Gallery presents three new exhibitions: Unbound in the east gallery featuring Beverly Brodsky and Elisabeth Jacobsen, Recent Monotypes in the west gallery featuring Myrna Burks and On the Wall featuring Carol Massa. The reception will be held March 3, 2016 from 6 – 8 PM. The exhibition runs from March 3rd through 24th at 548 West 28th Street in New York City. The Gallery hours are Tuesday-Friday, 11am-5pm, Saturday 11am-6pm.
In Unbound, Beverly Brodsky presents abstract paintings and monotypes for her first exhibition at Carter Burden Gallery. Brodsky's visceral surfaces are created through many layers of paint. In layering the paint, the artist reflects on the passage of geological time, and how time can be seen through the earth's layers. In addition to geology, the artist is inspired by mysterious, non-linear realities of the spirit world. Brodsky's travels to the Middle East, the Caribbean, the Pacific Northwest, Vermont, and Japan have influenced her work. Her interactions with different cultures, mythologies, and religions have particularly impacted Brodsky's color decisions. The resulting surfaces of Brodsky's paintings and monotypes reveal her passion for color.
In Unbound, Elisabeth Jacobsen presents sculptures for her first show at Carter Burden Gallery. Interwoven through Jacobsen's work is an adoration of the female figure and a devotion to sacred and secular images. The range of Jacobsen's formal training in sculpture, photography, and design is evident in her work. Common objects, discarded or found materials are manipulated to convey her stories. A Roman Catholic upbringing influences intimate chronicles of love, silence, and vulnerability, past and present. Jacobsen chooses materials for their formal qualities, frequently using metals, and gold or silver leaf, to instill a preciousness of content. She also brings together found or discarded objects, which support the meaning and the type of composition or tableau that she creates. Her art is a means to explore women's issues, religion, gay concerns, and other themes, pursuing the meaning of our bodies and loss.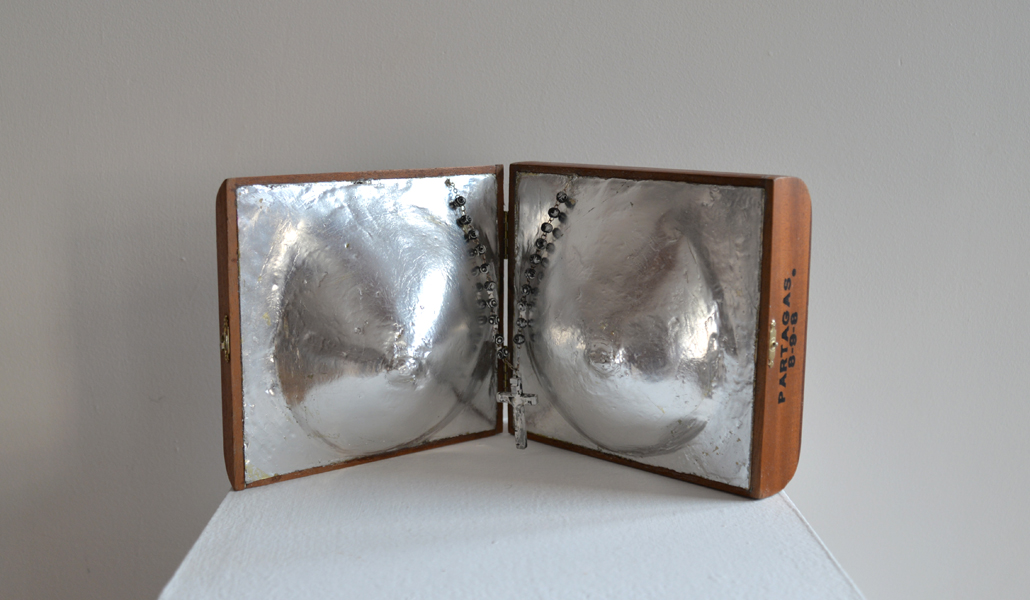 In Recent Monotypes, Myrna Burks presents her first show at Carter Burden Gallery. Burks' work is part of the rich dialogue that she has with the world; they reflect her environment and channel the colors, forms and spaces that she sees. She does not begin with a preconceived image or theme; rather, she just starts, trusting what emerges. While working, Burks insistently looks for clues as to how to proceed--is the color intense enough, does the line carry enough weight spatially or narratively. Typically, the collage element is added after the plate has been painted with oil based inks. For Burks' process, timing is critical. It is a juggling act to print the image through the etching press before the paper is too dry or the colle paper begins to curl.
Carol Massa's installation will be featured in the gallery space On the Wall. The artist is presenting an installation comprised of large drawings with collage that is inspired by the recent Whitney Museum retrospective of Frank Stella's work. The artist has created the artwork in the space, and is responding to space through her marks.